Fingers crossed this formats OK, I just cut and paste the job-lot straight from Open Office, pictures and all.
End of June – And I'm now sixth months in to my 7-10 year plan to (semi-) retire by the time I'm 51, and ambitiously by 48. This is the first of my intended 6 monthly updates, this allows enough time to show clear progress (hopefully rather than regress) and also these things to take quite a lot of time to review.
Executive Summary
Total Net Wealth gain of £13300 (since Februrary 2015)

Average total monthly expenditure not including mortgage – £903

Averge monthly savings of – £557

Average savings to expenditure ratio – 64% (if I include mortgage payments)

Overall I give myself 8/10 – For once I'm actually going to focus on the fact that I'm doing most things right, rather than the few things I could improve on.
Reminder of Original Long Term Financial Goals – Updates in Italics
Be mortgage free in 7-10 years (£137K outstanding)

Pay over £1000 a month towards the mortgage (15 year term) with a mind to either using savings or 'trading down' to pay off early.
I'm easily on track to do this in 10 years if I stay put in my flat in Surrey. However, the £140 I pay (in reality it's probably more) towards service charge every month is becoming increasingly insulting, and so I'm looking at 'downsizing' to a house in a poorer area and commuting to work, possibly as soon as the end of 2016.
Save £200 a month towards a 'land fund' – eventually to be used to purchase a van and land on which to establish a forest garden.
The 'Land Fund' is simply an investment account – I use Fundsmith, which I can thoroughly recommend – It's now worth about £12K – and it gained £3K in value in the last 6 months – yes, that's right, a 25% gain in 6 months – NB this isn't a high risk fund, in fact, quite the opposite! Based on these figures I'm actually tempted just to leave it untouched and live off the income generated in my late 50s.
Save an absolute minimum of £250/ month in additional funds (=£30K after 10 years, without accumulations). Ideally this figure will be significantly higher.
I've done quite well here – my average overall savings each month is £577 – I put £200 into the 'land fund' so that means my overall 'other savings' work out at £377/ month without accumulations. I've actually got £17K kicking about which is enough (just) to buy a small piece of raw land already, although it is extremely rare to find exactly what I want for this kind of price. If I could double this to £30K I'd have much more chance.
NB The reason I keep banging on about land is because land squatting is a key part of my ERE strategy.
Find additional income streams to boost the above figure. Target = £20K in five years.
I've realised I am not realistically going to generate any significant second income streams in my spare time, basically because I don't have any spare time. (It's actually quite interesting that it's taken me sixth months to realise this, or maybe it's about acceptance – I can't actually do any more than I'm already doing without compromising my mental health). Thinking about it, this amazing piece of insight might just be more valuable than any financial gains I've made.
Continue paying into the Teacher Pension Scheme.
It's not quite a no-brainer to keep paying into this, but it still makes sense. The amount I pay in has increased, and because of recent changes to the scheme I'm now stuck with a pension at 60 of around £7K/ year – everything I pay in from now on is not worth claiming until I'm 65 – If I claim my future contributions at 60, I lose 25% of the value of current and future contributions (what I've already got is protected, but then again I'm sure this could change under the nasties.)
Now onto the more detailed updates…
June Update One – Spending days compared to non-spending days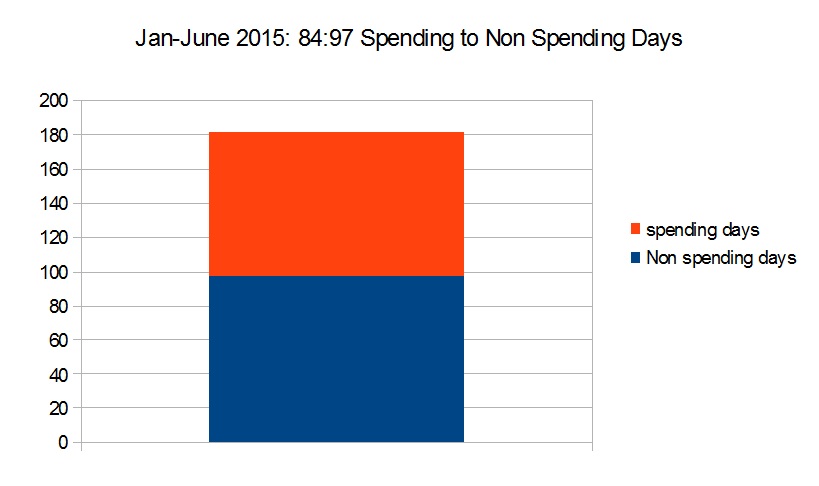 I know it says nothing about how much I actually save/ spend but these are a great little invention! No spending days have prevented me from buying several superfluous coffees, munchies, and stopped silly trips to Poundland and Wilkinson's. I can't put an exact figure on it but I reckon a saving of somewhere in the region of £20-50 a month?.
Jan-June 2015 Update Two – Expenditure and Savings Summary
Ratio of expenditure to income excluding mortgage – 64%

Ratio of expenditure to income including mortgage – 23%
NB For calculating the above savings to expenditure ratio I always count service charge (an outrageous £140/month) as 'expenditure' but for the first calculation I count mortgage payments as savings because in the future my flat will act as an investment which will bring in an income (while I squat in a field).
Technically I should count the interest part of this as expenditure and the repayment as investment, but honestly I can't be bothered to work this out and recalculate it every month as the repayments change, so stuff that! Just reduce the figure by a few percentage points if you're uncomfortable with it.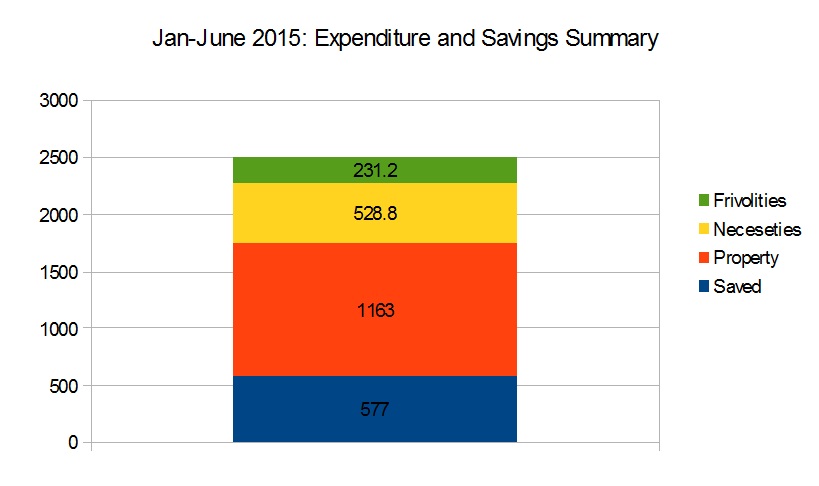 Frivolities = beer/ coffee/ subscriptions/ transport, (because I only really use transport for entertainment rather than work).

Necessities = council tax, services, food, 'stuff'.

Property = mortgage repayments + service charge.
January- June 2015 Update Three – Total average monthly expenditure excluding mortgage more detailed breakdown
This is really the headline figure – and it comes out at just over £900/ month, or £11K/ year – This is an honest account of how much I will need in retirement to live extremely comfortably. The service charge is something which is going to disappear hopefully very soon, but I figure the future cost of running a van which I currently don't have will come out around the same amount of £140 a month, maybe more, so I'll stick with £900 a month to live off.
Of course if I can pull off a land-squat my services costs will fall drastically, as will my food costs, so all of this could come down to nearer £5-600 in future. Whether that's sustainable or not remains to be seen!
NB – The obvious immediate area for improvement besides service charge (PAIN!) is beer, I intend to hammer this down from September.
January Update 4 – Total Net Wealth
Well I've gained £13300 in 5 months – I'm happy with that, hence the 8/10!
This is what it's all about! Remember, £200K is enough to semi-retire on! IMO anyone who already has more than £200K of TNW and is still in full-time work either really likes working, or if that isn't the case suffers from a compulsive disorder (addicted to over-consumption) and/ or lacks imagination.
I don't feel particularly comfortable posting details about my TNW, but it comes in at £101K including property – Half way to what I need. Rapidly may this increase!!!
It's kind of comforting to know that that's enough to buy some kind of Quinta in Portugal – I've even taken off £4K from the figure to factor in a contribution to selling up and moving on in case it comes to that! It also doesn't include a small emergency fund I've got stashed away.
So all in all, I'm on track to achieve my ERE goals, I could do better, but I think this not so extreme route to retirement (land squatting aside) is sustainable!
If you like this sort of thing – then why not my book which is more focused on early retirement in the UK?
Early Retirement Strategies for the Average Income Earner, or A Critique of Curiously Ordinary Life of the Everyday Worker-Consumer
Available on iTunes, Kobo, and Barnes and Noble – Only £0.63 ($0.99)
Also available on Amazon, but for £1.99 because I'd get a much lower cut if I charged less!