Check out this job posting from Reed Employment Services
'Spanish plus another language Customer Service Executive- Edinburgh £14,000 – Working 40 hours per week based in Sighthill, Edinburgh Our client is a market leading outsource contact centre who provides an array of sophisticated customer management solutions to major international companies around the world, primarily in the communications, financial services, healthcare, technology'
It may sound pretty swish – but this is basically an advert for a job in a call centre – and you only earn £14, 400 – which puts you below the government's poverty line (not to mention the fact that you have to be bilingual!)  
If you believe
Mark Serwotka
of the Public Services Union- Call Centres are among the worst employment sectors in the UK – he in fact phrased the title of this post. The extract below, based on interviews with call centre workers, and taken from
Owen Jone's Chavs: The Demonisation of the Working Class 
illustrates some of the miseries of working in a call centre –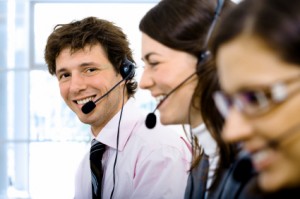 There are nearly a million people working in call centres, and the number is going up every year.
'Call centres are a very regimented environment,' says John McInally, a trade unionist leading efforts to unionize call centre workers. 'Its rows of desks with people sitting with headphones. There's loads of people in the room, but they're seperate units. They're encouraged not to talk, share experiences, and so on…. The minute you get in the door, your moveemnts are regulated by the computer…. We've likened the conditions to those you'd have seen in mills or factories at the end of nineteenth century.' Think that's an exaggeration? Then consider the fact that, in some call centres, workers have to put their hands up to go to the toilet and computers dictate the time and duration of breaks, with no flexibility whatosever. Employees are under constant monitoring and surveillance, driving up stress levels.
Many call centre workers have told McInally that the whole experience is 'very dehumanising'. People talk about being treated like robots. Everything is regulated by machines.' The working lives of many operators consist of reading through the same script over and over again. According to the Royal College of Speech and Language Therapists, increasing numbers of call centre workers are being referred to speech therapists because they are losing their voices. The cause? Working long hours with little opportunity to even have a drink of water.
That's one reason why the sickness rate in class centres is nearly twice the national average, The other is deep alienation from the work….. annual staff turnover is around a quarter of the workforce. And, like so much of the new working class, the salaries of call centre workers are poor. A trainee can expect £12 500, while the higher-grade operates are on an average of just £16 000.
Twenty-eight year olf Carl Leishman has been a call centre worker in Durham for eight year. He works bruising twelve-hour shits, three days on a three days off. At his pervious job, stiff targets had to be met. Four per cent of his working hours were set aside for needs like going to the toilet or getting a drink. 'You'd get ratings at the end of each month, and if you'd gone above those percentages then your rating would drop, affecting what bonuses and pay rises you were getting.' Carl didn't need to go the to toilet too often – 'whereas some other people, like pregnant women, could really struggle to stick to that.'
His employers have a no-hang-up policy, even if the customer is swearing or being aggressive. 'You'll see quite often on the floor people in tears at the way people have spoken to them,' he says. It is a job that can have consequences for your health, too. 'Your throat gets incredibly dry. There are people I've known for years whose throats have gone from doing it. A lady I used to work with had to actually leave because her voice was just completely shot.'
At the core of his experience at work is the lack of control over what he does.  'We're set in rows, which I hate, to be honest. It can sometimes feel very much like a chicken factory as though you don't have too much control over what you're doing: 'This is the way your doing things, and that's it, deal with it, because that's the way it is, don't think too much outside the box… you don't need to think much for yourself.
Carl's salary is just £14 400 a year.
Related Posts and Issues
The rise of the call centre worker is indicative of the rise of the 'New Working Class' – people employed in the service sector, often on low pay, and increasingly in temporary and part-time conditions (often suffering underemployment) –
The PCS campaigns for better conditions for Call Centre Workers and has put together this Call Centre's Charter
If anyone's got time to read it – this looks like a great PhD from 2010 – LIFE IN A NORTHERN TOWN: CALL CENTRES, LABOUR MARKETS & IDENTITY IN POST-INDUSTRIAL MIDDLESBROUGH ANTHONY LLOYD