The long term increase in Single Person Households in well documented – as in the infographic below.
As is the fact that older people are more likely to live alone that younger people.
As can be seen from the above chart, most of the increase in solo-living has come from middle aged people (45-64 year olds) and a recent longitudinal study: The Demographics of Living Alone in Midlife explores this in more depth:
The headline news (see the chart below, unfortunately going back to  2007) was that
At ages 35-49 there are approximately twice as many men living alone as women  – On average about 13% of men live alone compared to about 7% of women in these age categories.
At ages 50-54 the numbers of men and women living alone are approximately equal.
From age 55 and upwards the numbers of women living alone outnumber men and ratio gets larger as the population ages.
To break this down into more detail….
The percentage of both men and women living alone has increased in all age categories.
For ages 35-39 approximately 15% of men live alone, compared to 6% of women.
For ages 40-49 approximately 12% of men live alone compared to 6% of women.
For the age categories 35-39, 40-44 and 45-49 the proportions of men living alone approximately doubled between 1984 and 2007 and in all of these aged categories there are twice as many men living alone as compared to women.
For the same age categories for women, the number of 35-39 year olds trebled over this period, and for women in their 40s, the the number living alone doubled between 1984 and 1997 and then stabilised from 1997 to 2007.
For the age category 50-54 roughly similar proportions of men and women live alone, with men rapidly catching up with women.
For people aged 55 and over, there are more women than men living alone and numbers have increased at similar levels.
This research also takes a more in-depth and comparative look at the social characteristics of middle-aged men and women who live alone – which reveals some of the possible reasons for the increasing numbers of men and women living alone.
Firstly – women who live alone are much more likely to be educated than men:
Women living alone aged 35-64 are much more likely to have degrees – 38% of women living alone have degrees compared to 25% of men.
Men living alone aged 35-64 are twice as likely to have no qualifications – 15% of women have no qualifications compared to 27% of men living alone.
Given that men and women tend to couple up with people of similar (ish) ages (actually women on average go for men 6 years older, but that's fairly similar) and people of at least similar class backgrounds  and levels of educational achievement  – the overall increase in people living alone across both sexes could be down to 20 years of women outperforming men in education resulting in a much higher proportion of educated women compared to men.
So possibly, we're now living in a society in which millions of educated women aged 34-49 are living alone because they don't want to settle for an uneducated male partner.
The converse of this is that we've also got millions of uneducated men aged 34-49 who are living alone, not out of choice, but because their more educated female peers don't see them as a viable prospect.
Thirdly (I'm sure there are two reasons above!?) – If we look at the situation of people living alone in relation to children, we find that the increase in men living alone is probably mostly down to two combined factors – the long term increase in divorce and the fact that children (where they exist) are more likely to go and reside with the mother than the father…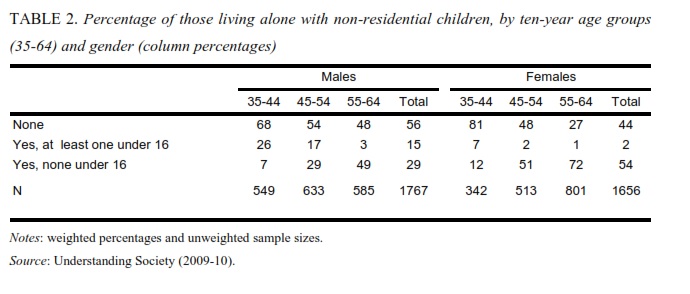 As the table above shows us, for 35-64 year olds, an average of 15% of men living alone have at least one dependent child compared to only 2% of women, reflecting the fact that hardly any women with dependent children live apart from them.
To conclude on some Social Theory, one might tentatively say that the above research supports Giddens' idea that increased gender equality has led to women being less prepared to settle for shallow relationships, as there is evidence of more (educated) women choosing to live alone rather than settling for any old relationship.
However, where men are concerned, perhaps Beck's individualisation Thesis applies more – they appear to have less choice than women about whether they live alone or not – middle aged male solo-livers seem to be the ones being left on the shelf altogether or abandoned by their partners and children after a failed relationship.
Of course the above is hypothetical, you'd need to do some qualitative research with middle aged men and women to uncover the extent to which they've 'chosen their solo lives.