In this Thinking Allowed Podcast Laurie Taylor interviews Clare Lyonette from the University of Warwick about whether men are more likely to do their fare share of the housework when women earn more.
Laurie starts off by pointing out that the gender pay gap has narrowed significantly in recent years according to the Office for National Statistics Annual Survey of Hours and Earnings. As outlined in the chart below the overall pay gap has fallen from about 27% to 19% since 1997.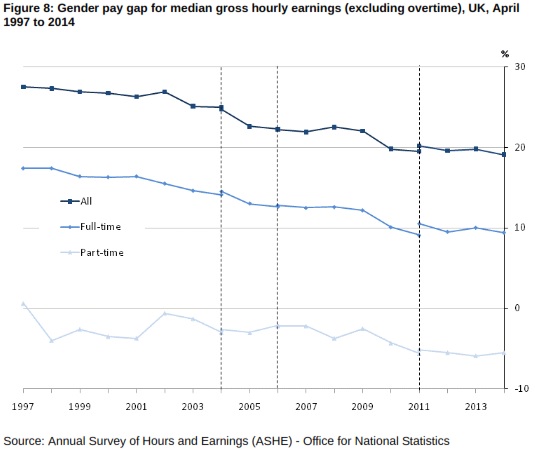 This trend towards increasing gender equality is most stark if you break median full-time earnings down by age – Women in their 20s and 30s actually earn more than men, but this is drastically reversed for older women, which is mainly down to the effect of couples having children and the fact that women are still the primary child carers (in approximately 6/7 couples according to other research I've read).
However, despite the evidence of this negative gender pay gap, according to a recent Survey for BBC Women's Hour, women still do, on average, twice as much housework as men, as outlined in the infographic below:
Of course the above survey only looks at overall averages, and Clare Lyonette's research (details here) represents a nice extension of this because she looks at how the domestic division of labour is affected by the relative earnings of men and women in a household, especially timely now that women are the main income earners in 31% of households (up from 18% in 1997).
Some of the main findings of this research include:
There was a widespread ideological commitment to the idea that domestic chores should be shared: when asked about attitudes both men and women are very committed to actual sharing.
Women earning more than men does make a difference. Women who earned more than their male partners were more likely to contest any inequality in the domestic division of labour, and in these households, men did do a more equal share of housework.
However, in such households men did often not clean to as higher standards as women, and they also tended to engage in more visible chores which they could make a performance out of and demonstrate mastery of (cooking for example) rather than the more hidden housework such as ironing.
When children came along, the traditional patterns in the DDL reasserted themselves.
Very interestingly, men from lower income households did a more equal share of domestic labour and seemed more ideologically committed to it than men from higher income households.
In higher income households, men (or couples?) just avoided the issue of who should do the housework with both partners working by hiring domestic help, with mainly the woman doing the bits left over.
Analysis 
It seems that among lover income earners, the lack of ability to afford domestic help means that men and women are having to fall back on those age old face to face to face skills of negotiation and discussion to sort out the injustice of 'the dual burden', the result being that men are actually having to change both their attitudes and actions towards domestic labour – by actually doing more of it!
However, with high income earners who just throw money at the the problem of inequality in the domestic division of labour in the context of similar working hours, there is no discussion or adjustment necessary. Men simply don't need to think about issues of gender equality, they just chuck money at it and the issue disappears and yet remains. This is somewhat worrying when the gender pay gap is significantly larger where high incomes are concerned:
It strikes me that this is a feature of the class-divide in the UK that hasn't been picked up on by that many people – lower down the order we could have genuine steps towards lifeworld equality being taken, while among the top 10% inequality between men and women in terms of attitudes and practices remains greater.
PostScript
As a final note, I'd just like to comment on what I see as the incredible sub-optimality of working long hours and then hiring a cleaner because you don't have time to clean, which effectively ties you into working long hours. So not only does doing this prevent discussion/ dialogue and progressive adjustment between couples it ties them into the long-work-high-consumption life cycle for years longer than is necessary.
 P.S. Americans – It's 'labour' dammit!